Clothes
Aikido is being practised in an aikido suit which is identical to a suit for judo. This is also called keikogi or dogi, which is Japanese for training clothes. To keep the jacket closed, a belt is worn. This is called obi and is, depending on your grade, white or black. People with a black belt also wear trousers from a Japanese men's costume. This is called a hakama and serves partly to disguise the foot position.
Een keikogi en hakama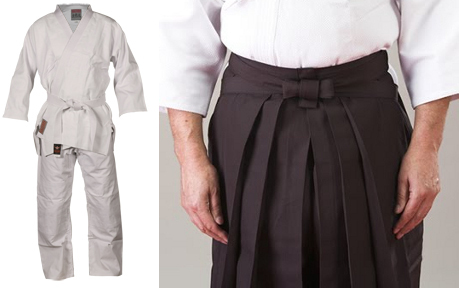 Om volgens Japanse traditie en hygiëne van de kleedkamer naar de mat te kunnen lopen, neemt iedereen zijn eigen zori, slippers, mee. Meestal zijn dit gewone badslippers waar je ook mee onder de douche kan. Voor de training is het bij ons de regel dat iedereen zijn of haar voeten wast. Neem daarvoor een handdoek mee. Deze kun je na de training ook gebruiken voor het douchen.
For people doing a trial lesson or an introduction month it is possible to train in a long training trousers and a long sleeve shirt. No zippers, press buttons or other hard or sharp parts may be attached to them. Purchasing an aikido suit via our society costs between € 50 and € 70. A suite can last up to five or ten years. People that train often usually have two suits for washing machine logistical reasons.
We raden het aikidopak van Ronin aan. Een dunnere versie is het aikidozomerpak van Ronin. Die is beter voor trainen in warmere gebieden en op zomerscholen. Verder geeft het iets minder schokdemping omdat het dunner is.
Training weapons
Voor de wapentrainingen gebruiken we een houten mes genaamd tanto, houten staf genaamd jo, een houten zwaard genaamd bokken. Wanneer we hier mee trainen kunnen mensen die deze niet hebben er een lenen. Via de vereniging is het mogelijk bij onze leverancier deze trainingswapens voor jezelf aan te schaffen. De prijzen variëren ongeveer, afhankelijk van het type en de kwaliteit, van € 10,- tot € 60,-. Mits goed verzorgd kunnen ze wel tientallen jaren meegaan. Mocht je ze ooit vervoeren, van en naar de training, dan dient dit in een foedraal te gebeuren.
Een bokken, jo en tanto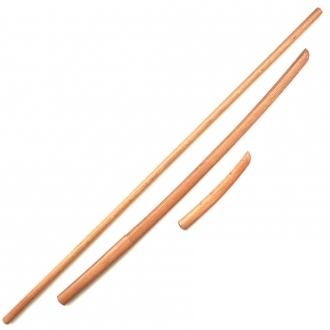 Aan de bokken stellen we voor onze trainingen speciale eisen, onder andere dat ie van een bepaald type is en er een stootplaat genaamd tsuba bij zit. Meer gevorderden kunnen ook een plastic zwaardschede, saya, aanschaffen om beter een zwaard te leren trekken. Een volgende stap zou een iaito, een stalen Japans oefenzwaard, kunnen zijn maar daar moet niet te licht over gedacht worden en deskundig advies is nodig om een miskoop te voorkomen.