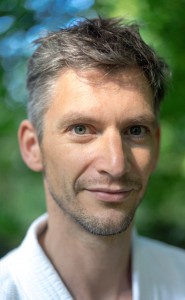 Sander van Geloven, 4rd dan, is the teacher and founder of Sanshinkai Aikido Utrecht. He started in 1994 and has developed himself thoroughly as shidoin in the system of Masatomi Ikeda shihan, 7th dan.
Since 2008, he is a student of Michele Quaranta, 6th dan. He also travels frequently to Japan to study aikido and Kashima Shinden Jikishinkage-ryu. Sander is a by the NOC*NSF certified aikido teacher level 3.
Michele Quaranta and others in Macedonia

Throughout the year he attends many international seminars and summer schools by Michele Quaranta, but also trains regularly with Francesco Marrella and Jelena Vrzić, both 6th dan, and Eric Graf, 4th dan. On occocasion he goes to seminar given by Pasquale Aiello, Domenico Zucco, both 6th dan, and Hiroshi Tada shihan, 9th dan.
Sander is also guest teacher for several other groups in the Netherlands and abroad. See the recommendations for more information.
Jelena Vrzić and others in Serbia

Masatomi Ikeda with Michele Quaranta in Germany

Teacher Team
Sanshinkai Aikido Utrecht has build a qualified teacher team. All our teachers hold at least the first dan in aikikai aikido and most of them have followed official education for aikido teacher at Aikido Nederland which is recognised by NOC*NSF. Our teacher team currently consists of the following persons.
Sander van Geloven
head teacher
4th dan aikikai aikido
teacher education level 3 and shidoin
Bas van der Touw
assistent teacher
2nd dan aikikai aikido
Jan Stomphorst
assistent teacher
1st dan aikikai aikido
teacher education level 2
All our active teachers are a member of our technical commission.
Due to various reasons, the following persons from our teacher team do not give trainings at the moment:
Erwin van der Sluis, 2nd dan aikikai aikido, teacher education level 2
Ernst Bechthum, 1st dan aikikai aikido, teacher education level 2
Yo-Yi Pat, 1st dan aikikai aikido, teacher education level 2