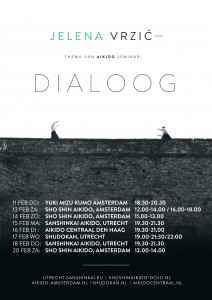 On 15 and 18 February, 19.30-21.30, we organise a training with Jelena Vrzić sensei, 6th dan, the first woman to receive shodan in the former Republic of Yugoslavia.
Her classes in February will be characterised by a strong emphasis on the dialogue between uke and tori. She will look for input from all to inspire her own aikido and to work towards technical improvement of all attendees. With her experience of over 30 years of aikido, her focus on technical souplesse and her kind and inspirational words for everyone, from beginner to advanced, she is a cherished and welcome guest.
The training with Jelena Vrzić sensei is open to all. Admission fee at the door: € 7.50 (cash only). Please arrive in time.
Please note that Jelena will be visiting various dojos in the Netherlands; for more information, please check the attached poster.