| | |
| --- | --- |
| naam | Dirk |
| geboortejaar | 1996 |
| opgegroeid in | Utrecht en Enschede |
| aikido sinds | 2017 |
| graad | 3e kyu |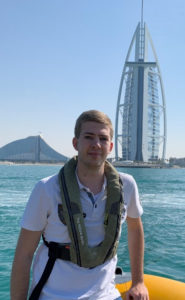 Wat vind je mooi of inspirerend aan aikido?
Wat ik mooi vind aan aikido is dat je met je hele lichaam werkt. Voor de verschillende technieken gebruik je dus niet alleen je armen, maar je gebruikt je hele lichaam, je centrum. Hierdoor kan ook goed de technieken toepassen bij mensen die groter zijn dan jij bent.
Wat is je favoriete techniek en waarom?
Mijn favoriete techniek is nikyo omdat dit een korte, maar efficiënte techniek is. Net als bij vele andere technieken in aikido kan ook nikyo vanuit vele verschillende situaties toepassen.
Daarnaast vind ik de wapentrainingen erg leuk. Dit geeft net weer een andere dynamiek en andere inzichten.
Hoe pas jij aikido toe in het dagelijks leven?
In het dagelijks leven werk ik steeds meer vanuit mijn centrum te werken. Hiermee komt er meer rust en overzicht waardoor je een betere beslissing kan maken en niet te veel wordt meegenomen in het moment.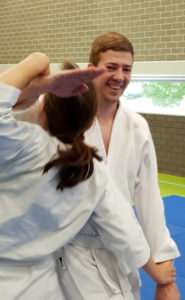 Wat doe je in je dagelijks leven?
Na een studie werktuigbouwkunde in Enschede ben ik aan het werk als energie adviseur. De taken die ik hier uitvoer zijn het beheren en monitoren van nul op de meter woningen en ondergrondse warmte koude opslagen. Daarnaast help ik met ontwikkelen van nieuwe dashboards om een beter inzicht te krijgen in de verschillende woningen die ik beheer.
Wat maakt je aan het lachen?
Blackadder, Austin Powers en Jochem Meijer.
Wat is je favoriete citaat?
"When something is important enough, you do it even if the odds are not in your favor." Elon Musk.
Wat moeten we verder over je weten?
Ik ben een grote fan van barbecueën en ik brouw mijn eigen bier.