| | |
| --- | --- |
| naam | Hans |
| geboortejaar | 1978 |
| opgegroeid in | Sprang-Capelle |
| aikido sinds | december 2014 |
| graad | 4e kyu (inmiddels 1e kyu) |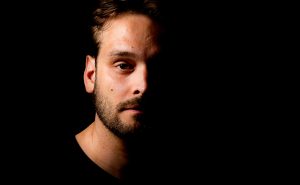 Wat vind je mooi of inspirerend aan aikido?
Wat me in het begin aantrok in aikido zijn de vloeiende en harmonieuze bewegingen van de mensen die het beoefenen. Eigenlijk is dat niet veranderd, maar aikido heeft voor mij wel veel meer diepgang gekregen in de afgelopen jaren. Bij het nastreven van deze harmonie in de beoefening is het van belang dat je je diepste "ik" in het reine brengt met zichzelf en met de wereld om zich heen. Dat vind ik zo mooi aan de symboliek achter de serie ademhalingsoefeningen waarmee we elke training beginnen.
Wat is je favoriete techniek en waarom?
Genkeikokyunage. Voor mij is dit een techniek waarin openheid, mededogen en daadkracht zijn verenigd. Dat zijn persoonskenmerken die ik erg hoog in het vaandel draag, maar waarin ik persoonlijk nog veel te leren heb.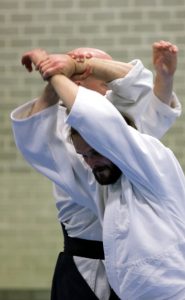 Hoe pas jij aikido toe in het dagelijks leven?
Aikido geeft me steeds meer het vermogen om met weerstand om te gaan. Voor mij ligt momenteel de nadruk op het ruimte geven en in goede banen leiden van mijn innerlijke onrust. Als ik zelf meer rust heb, heeft dat een positieve uitwerking op de wereld om mij heen.
Wat doe je in je dagelijks leven?
Ik werk op het Bedrijfsbureau Arbeidsintegratie van UW. Team Arbeidsintegratie houdt zich bezig met het opleiden, detacheren en bemiddelen van mensen met een arbeidsbeperking of grote afstand tot de arbeidsmarkt. Denk hierbij aan mensen uit de sociale werkvoorziening, Wajong'ers en mensen die al een tijdje in de bijstand zitten.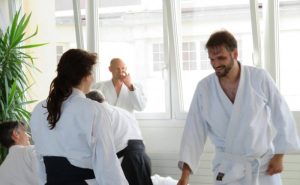 Wat maakt je aan het lachen?
Mijn katten Zara en Kamille maken mij dagelijks aan het lachen. Malle beesten zijn het. Verder vind ik het heerlijk om met vrienden en collega's tijdens gesprekken te verzanden in absurditeiten. Ik houd ook erg van Engelse humor, zoals de sketches van het duo Mitchell and Webb.
Wat is je favoriete citaat?
"[T]he thoughts that I have in my head that make me feel the most lonely, […] are also the thoughts that have the potential to make me feel the most connected." Ze Frank, Thinks Like Me.
Wat moeten we verder over je weten?
Ik maak en bewerk graag foto's. Schaamteloze zelfpromotie: instagram.com/thenightsdisguise.