| | |
| --- | --- |
| naam | Simon |
| geboortejaar | 1980 |
| opgegroeid in | Tilburg |
| aikido sinds | 2013 |
| graad | 6e kyu |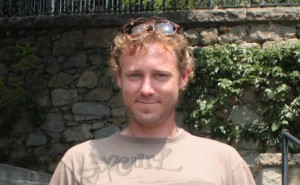 Wat vind je mooi of inspirerend aan aikido?
Voor mij is het een grote uitdaging om minder in mijn hoofd te zitten en meer in mijn lichaam. Minder denken, meer voelen. Aikido inspireert me om hier mee aan de slag te gaan.
Wat is je favoriete techniek en waarom?
Shihonage. Een flitsende techniek die van tori snelheid en precisie vergt. Zowel de omote- als ura vorm zijn fantastisch om te maken. Je voelt de spiraal- en vuurelementen.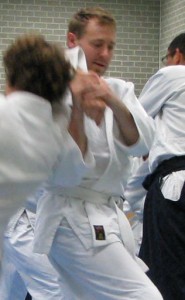 Hoe pas jij aikido toe in het dagelijks leven?
Aikido is erg handig als je struikelt over een losse schoenveter of wanneer je je grote broer in een stoeipartij de baas wil zijn. Beide gevallen komen bij mij eigenlijk nooit voor; aikido is voor mij ontspanning door inspanning. En een sociale bezigheid, want iedereen die aan aikido doet is cool!
Wat doe je in je dagelijks leven?
Ik ben tekstschrijver en meubelmaker. Kort gezegd schrijf ik dus teksten (over van alles) en maak ik meubels (allerlei soorten). Zie ook www.meubelmakerijkorthout.nl. Vrije tijd besteed ik aan mijn dochter, vrouw, vrienden en series. Heel veel series.
Wat maakt je aan het lachen?
Humor. Met name. En andere lachende mensen. Oh ja, en laatst had ik een binnenpretje. Dat was ook lachen.
Wat is je favoriete citaat?
"Obviously, you're not a golfer." Uit The Big Lebowski. Mooi moment in de film, en de perfecte opmerking als iemand je bowlingbal omhoog houdt en vraagt wat het is. (Helaas nog niet zelf meegemaakt.)