| | |
| --- | --- |
| naam | Melissa |
| geboortejaar | 1997 |
| opgegroeid in | Bilthoven, Veenendaal en Tilburg |
| aikido sinds | 2017 |
| graad | 6e kyu (inmiddels 5e kyu) |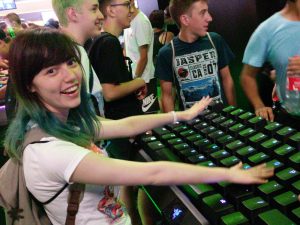 Wat vind je mooi of inspirerend aan aikido?
Ik vind vooral de connectie met het lichaam mooi, de mooie vloeiende bewegingen, dat je helemaal in controle van je lichaam kunt zijn en elke spier met aandacht beweegt. Daarnaast vind ik het principe van respect erg mooi: voor de mede-aikidoka, de uke (tegenstander), de sensei (docent) en voor aikido in het algemeen.
Wat is je favoriete techniek en waarom?
Katatedori aihanmi ikkyo omote. Dit was een van de eerste technieken die ik onder de knie had. Ikkyo ura vind ik ook een hele leuke techniek. Omdat je hierbij heel goed de energie van uke voelt en daar mee kan werken.
Hoe pas jij aikido toe in het dagelijks leven?
Niet zozeer de technieken, maar wel de spieroefeningen. Omdat ik veel achter een bureau zit doe ik wel eens de oefeningen die we in de les doen. Daarnaast laat aikido goed mijn hoofd legen. Dus na een training kan ik de hele week weer aan.
Wat doe je in je dagelijks leven?
Voor het grootste deel studeer ik. Ik ben nu vierdejaarsstudent Interaction Design bij de HKU en eerstejaarsstudent psychologie bij de UU. Ik doe graag mee aan medezeggenschap, dus ik zit bij de opleidingscommissie en jaarvertegewoordiging.
Daarnaast werk ik af en toe nog bij mijn ouders in het Japanse restaurant Nakoyashi. Maar het liefst speel ik de hele dag spelletjes en kijk ik series. Ik ga ook heel graag uit eten en ben in heel veel restaurants (in Utrecht) al geweest. Dus als je tips wilt dan kun je bij mij terecht.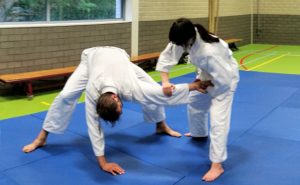 Wat maakt je aan het lachen?
Ik kijk het allerliefst sitcoms: ik heb alle tien de seizoenen van de serie Friends vaak gezien.
Wat is je favoriete citaat?
"If you always want to be right, you need to always be prepared to change your mind." C.G.P. Grey.